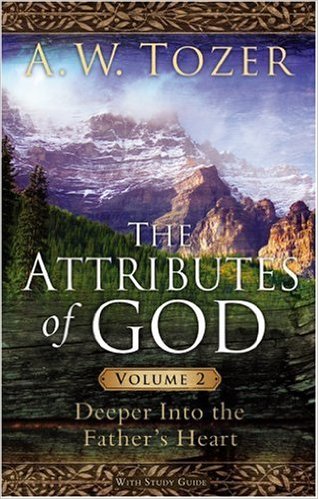 From the back cover
 God's Self-Existence, Transcendence, Eternalness, Omnipotence, Immutability, Omniscience, Wisdom, Sovereignty Faithfulness, and Love. 
 "We must know God again," A.W. Tozer writes urgently in his introduction to this second volume. "Nothing less than this will save us." Originally preached as sermons to the Avenue Road congregation in Toronto, this study of ten more attributes of God restores our knowledge of who God is. A study guide has been added for an in depth look at each attribute.
"A.W. Tozer's books reflect a unique blend of genuine piety and downright common sense. He challenged every sort of spiritual pretension while evidencing a devotion to Christ that was every bit as sincere as compelling." 
A.W. Tozer was born in 1897 on a small farm in western Pennsylvania. Following his conversion to Christ when he was seventeen, he answered God's call to ministry. Tozer was pastor of Southside Alliance Church in Chicago for thirty-one years. He is the author of the spiritual classic, The Pursuit of God.
My Review:
The Attributes of God Volume Two: Deeper into the Father's Heart is A.W. Tozer's famous work, The Attributes of God Volume Two, with a valuable study guide that helps the reader get the most out of A.W. Tozer's The Attributes of God Volume Two. The study guide, written by David E. Fessenden, divides The Attributes of God Volume Two into 12 sessions. The 12 sessions include one session per chapter plus the introduction and a review.
Learning the attributes is valuable because it helps the reader to understand more about their Creator. "God gives to human life its only significance," A.W. Tozer writes in his introduction. A.W. Tozer quotes Romans 1:21-28 to explain the importance of spiritual protection and how having a correct understanding of God keeps us safe. When we learn about the attributes of God, we gain faith and want to change to be more like Him.
I recommend The Attributes of God Volume Two: Deeper into the Father's Heart by A.W. Tozer and David E. Fessenden for anyone who wants to learn about God personally or in a group.
Disclosure of Material Connection: I received this book free in exchange for my honest review from the publisher through the Moody Blogger Review Program. http://www.mpnewsroom.com/content/blogger-review-program I was not required to write a positive review. The opinions I have expressed are my own. I am disclosing this in accordance with the Federal Trade Commission's 16 CFR, Part 255 : "Guides Concerning the Use of Endorsements and Testimonials in Advertising."