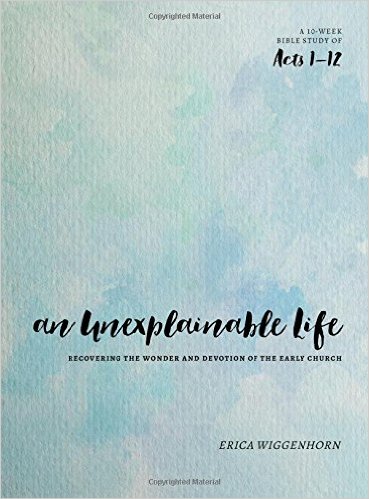 From the Back Cover
Can you explain your life apart from God?
Most of us live a shadow of the life we're called to. Perhaps more than any other book in the Bible, Acts shows us what life can be when lived in the power of God.
An Unexplainable Life is an in-depth study meant to reignite a movement of the Holy Spirit in us individually and in our churches collectively.
Verse-by-verse study of Acts 1–12, spread over ten weeks (5 lessons/week)
Full of biblical, theological, and historical insights
Text-based discussion questions that truly provoke thought
Erica's love for God, His Word, and His church shines on every page. She masterfully guides us deep into the text, challenging us with Scripture as she shares how it is challenging her.
Engage honestly with this study, and you will be changed. Go through it with a small group, and you will come away as a powerful force. Complete it as a church, and who knows what the Lord will do?
"Acts is the story of Christ's mission becoming reality in the lives of His followers. To study it is an invitation for it to become your reality and mine." —Erica Wiggenhorn
About the Author
ERICA WIGGENHORN is the founder of EveryLifeMinistries, bringing the truths of Scripture to transform lives. She teaches in various local and national venues and serves on the women's ministry leadership team for her church. She's also taught women in the Arizona State Prison system, and overseas. She loves to bring God's Word through Bible teaching, conferences, seminars and retreats. A graduate of Azusa Pacific University, Erica lives in Phoenix with her husband, Jonathan, and their two children, Eliana and Nathan. For more information about Erica, her Bible studies, and writing/speaking ministry, visit www.EricaWiggenhorn.com.
My Review
NOTE: I reviewed the paperback version.
When I received this book, my first word was "WOW". This is a Bible study that takes the reader verse by verse through Acts 1-12. This is an intense study that is perfect for those who truly want to know the word of God better. I like how all the questions and activities are in blue ink while all the commentary from the author is in black ink. The number of questions impressed me. The study is also full of cross references that pertain to the study. The introduction explains about a group leaders guide and some extra material available on the authors website. The book is organized beautifully. I love the touch of watercolor that ties into the blue colored questions. The paper is a nice thickness to be able to journal and write as you go through the study. This book is really a work of art. I wish I could find more Bible studies like this one.
Disclosure of Material Connection: I received this book free in exchange for my honest review from the publisher through the Moody Blogger Review Program. http://www.mpnewsroom.com/content/blogger-review-program I was not required to write a positive review. The opinions I have expressed are my own. I am disclosing this in accordance with the Federal Trade Commission's 16 CFR, Part 255 : "Guides Concerning the Use of Endorsements and Testimonials in Advertising."