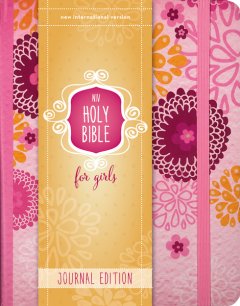 Book Description:
The NIV Holy Bible for Girls, Journal Edition is the perfect way to apply Scripture to your everyday life. Designed with the thoughtful writer in mind, a whimsical cover and journaling lines inspire reflection in God's Word. This Bible contains the full text of the bestselling New International Version (NIV) translation.
Features include: Lines on each page for journaling and notes Thick paper perfect for any writing utensil A presentation page for gift giving A "How to Use This Bible" page to get started on the right foot Ribbon marker The complete text of the bestselling New International Version (NIV)
My Review:
I've been looking for a journal Bible for my artistic daughter. I thought that reviewing NIV My Journal Bible, Pink Published by Zondervan would be a great opportunity to find her a journal Bible.This book is also more compact than I was expecting. The size is aprox 8x6x1.75. The hardcover is nice.  I was expecting thicker paper based on the book description. Although the paper is thicker than most Bibles, I would still like it a bit thicker to use pens, markers and paint. The Bible itself is pretty cut and dry. There are no cross references or notes which is perfect for journaling. There are also no reference or maps sections except for the presentation page, the table of contents page, the list of the books of the Bible in alphabetical order, a preface in the front and a table of weights and measures on the last page. The preface explains the goals, translation philosophy, textual basis, footnotes and formatting of the NIV version. My daughter was excited to see this book come in the mail. One of the first thing she does is smells the book she is reviewing. She said it smells like a puzzle. I recommend this journal bible for anyone looking for a compact journaling Bible.
Disclosure of Material Connection: I received this book free from the publisher through the BookLook Bloggers book review bloggers program. I was not required to write a positive review. The opinions I have expressed are my own. I am disclosing this in accordance with the Federal Trade Commission's 16 CFR, Part 255 : "Guides Concerning the Use of Endorsements and Testimonials in Advertising."