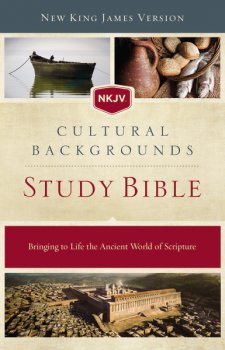 Book Description
CONTEXT CHANGES EVERYTHING
You've heard many Bible stories hundreds of times, but how many behind-the-scenes details are you missing? Sometimes a little context is all you need to discover the rich meaning behind the stories of Scripture.
That's what the NKJV Cultural Backgrounds Study Bible provides. Every page is packed with expert insight into the customs, culture, and literature of Bible times. These fascinating explanations will serve to clarify your study of the Scriptures, reinforcing your confidence and bringing difficult passages of Scripture into sharp focus.
Discover new dimensions of insight to even the most familiar Bible passages as you take a behind-the-scenes tour into the ancient world.
The Bible was originally written to an ancient people removed from us by thousands of years and thousands of miles. The Scriptures include subtle culturally based nuances, undertones, and references to ancient events, literature and customs that were intuitively understood by those who first heard the Scriptures read. For us to hear the Scriptures as they did, we need a window into their world.
My Review
The NKJV Cultural Backgrounds Study Bible is an impressive book for people who are interested with the cultural background of the Bible. The page quality and feel is soft and not too thin. This is a heavy book. I would not want to carry this book around but it is perfect for a study. The cross references are helpful but could be more extensive. The study notes are unique in that they focus on the culture pertaining to the people, the land, the literature and political nature of the specific culture in the Bible. The NKJV Cultural Backgrounds Study Bible has several indexes including a nice concordance, a useful index to maps, and an index of articles.  The full color pictures and maps help connect to the archaeology of the time period. Each book has an introduction describing the uniqueness of each book like the authorship, date and purpose. There is a section between the Old and New Testaments entitled "The Time Between The Testaments" I recommend this Bible to anyone interested in biblical history and culture.
Disclosure of Material Connection: I received this book free from the publisher through the BookLook Bloggers book review bloggers program. I was not required to write a positive review. The opinions I have expressed are my own. I am disclosing this in accordance with the Federal Trade Commission's 16 CFR, Part 255 : "Guides Concerning the Use of Endorsements and Testimonials in Advertising."