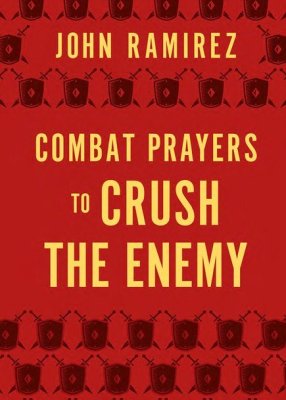 From the back cover:
You have the authority and mandate to destroy the works of the devil! Satan prowls the earth unleashing his wicked spirits against all who call on the name of Christ. He wants to destroy as many as he can — and take us to hell with him. Now more than ever the Church must rise up and confront the devil head on.
In this handbook of militant prayers, evangelist John Ramirez helps you prepare for and move into advanced combat. He teaches you to open your spiritual eyes, strengthen your position as a warrior, release the thunder of God against the devil, loose God's blessings and more!
With holy anger you can defeat the enemy's plans against you, your loved ones and your church. It is time to battle with all your heart.
My review:
The one thing that impressed me about Combat Prayers To Crush The Enemy by John Ramirez is that it is simple. It is full of short prayers that are powerful. Its not overwhelming in content but small sections that could easily be carried throughout the day. Each prayer is partnered with a scripture verse. Combat Prayers To Crush The Enemy by John Ramirez is broken up into 12 chapters plus an introduction and "A Final Word". Each chapter has a note page, a short one page introduction and then about 10-20 prayers and verses. This is a powerful book that I recommend for all believers wanting to overcome the evil in this present age through Christ.
Disclosure of Material Connection: I received this book free from the publisher through the Bethany House/Chosen Blogger Review Program. I was not required to write a positive review. The opinions I have expressed are my own. I am disclosing this in accordance with the Federal Trade Commission's 16 CFR, Part 255 : "Guides Concerning the Use of Endorsements and Testimonials in Advertising."